THINWALL™ Tech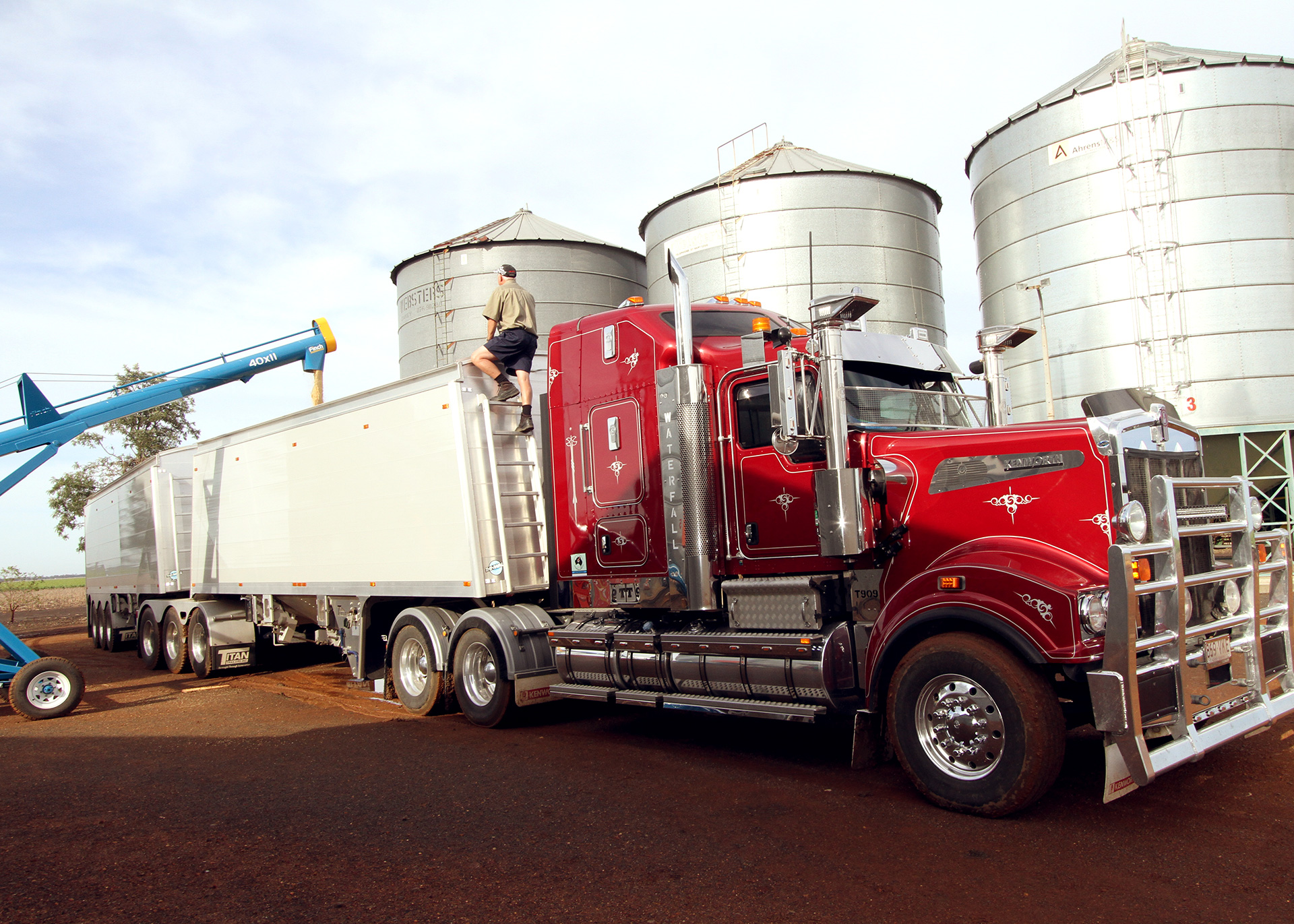 Thinwall™ Running Strong since 1996
THINWALL™ is the original double-wall extruded aluminium panel that first introduced the trailer industry to smoothside technology. We sold the first THINWALL™ trailer for bulk material hauling in 1996 and applied successfully for the first patent for the THINWALL™ process in 1999.
Thinwall™ Technology
THE 'INSIDE STORY' ON THINWALL™ ALUMINIUM TRAILER TECHNOLOGY
Only THINWALL™ offers the proven strength of double-welded, double-walled aluminium. Our exclusive patented processes and original designs produce today's most advanced smooth-side trailer body for long life and efficient performance.
---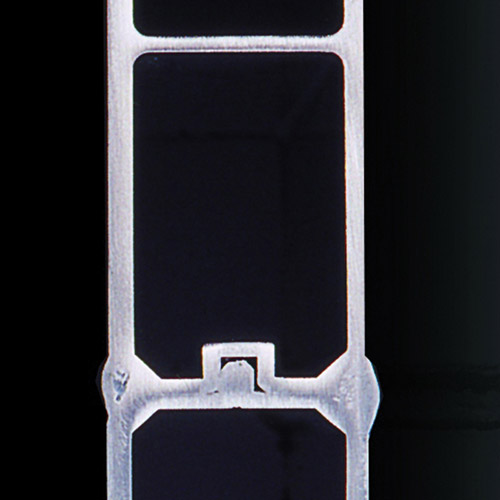 Double-Wall Cross-Section
The THINWALL™ panel is a hollow-core extrusion that achieves high strength with light weight similar to the way that corrugation turns paper into a high-strength board. The inner wall is thicker than the outer wall to absorb load impacts and to prevent interior damage from penetrating to the outside. The aluminium web between the walls is integral to the extrusion, with no mechanical joining.
---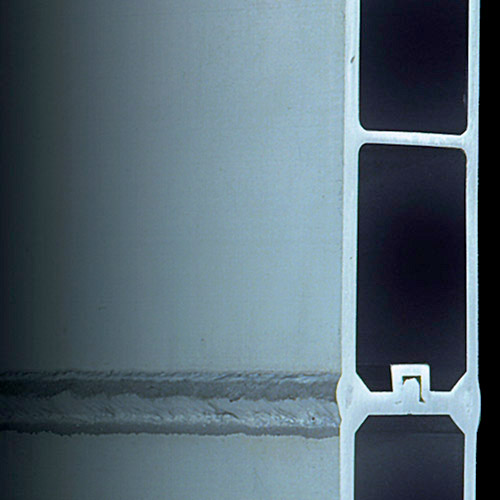 Double-Welded Assembly
THINWALL™ patented an exclusive process that overcomes the challenges of machine welding very long aluminium panels. We complete the welding for one side of an entire THINWALL™ assembly – up to 53 feet long - in a single automated pass. Then we repeat the process on the other side. The result is highly consistent, 100% machine-welded seams inside and out. There is simply no stronger way to assemble an aluminium trailer body.
---
Horizontal Construction
Extruded panels are easier to assemble when they stand upright, but THINWALL™'s horizontal interlocking panels gain extra strength and stability much like the walls of a log cabin. The end-to-end seams withstand flexing stresses better when the trailer rolls and twists over rough terrain. A horizontal structure also eliminates welding seams at stress points on multi-axle rigs.
---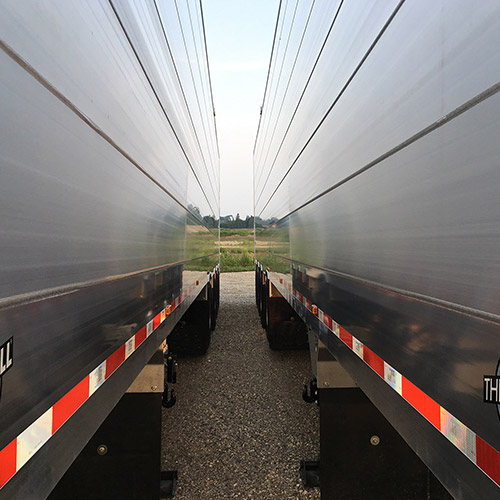 Heavy Duty Aluminum
The 6061-T6 aluminium alloy used to produce THINWALL™ extruded panels was specially selected for its excellent wear factor – far superior to conventional aluminium sheet used in many trailers. Its rigidity and workability also make it an exceptional material for trailer bodies.
---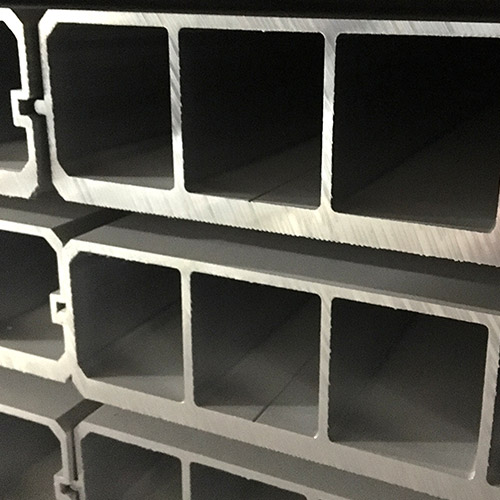 Thinwall™ Floors
The success of the THINWALL™ side panel led to the application of the same technology to create a high-strength low-weight floor panels for aluminium tipper trailers and semi-dumps. Naturally, THINWALL™ floors use a heavier grade extrusion than sidewalls require, but their end-to-end strength and long-wearing durability deliver on all the advantages our customers have come to expect.
Factory
As a custom builder, we have to be ready to move whenever our customer is ready to spec a new trailer. To make and keep our customer commitments, we built one of the most complete, most advanced trailer fabrication shops in the world. Our production facility handles every process from product development to finishing and testing. And, over our 30 years, we have trained and recruited an unbeatable team of tradespeople and shop professionals – people who are equal to the challenges of custom building. To better serve our customers abroad, we currently operate assembly facilities in the UK and now in Australia. Our trailers arrive in kits and are assembled by staff that match the quality and workmanship our customers have come to expect in all our THINWALL™ trailers.
Innovative "green" technologies in our new manufacturing facilities put us at the forefront of sustainable manufacturing practices for employee and environmental health.
---
Going Green
Thanks to the fuel efficiency of THINWALL™ trailers, Titan Trailers has been contributing to the "greening" of the transportation industry for many years. With the opening of the new 97,000 square foot addition to our manufacturing facilities, we have taken our commitment to a healthier environment a step further. The new facility, which houses Titan's R&D operations, Quality Control and Final Finish departments, incorporates several state-of-the-art features for improved health and energy efficiency.
---
In-Floor Heating
This system delivers heat at the floor level, where it is needed most, and improves energy efficiency by up to 30%, compared to traditional heating. In old-style systems, much of the heat from ceiling-mounted heaters was wasted as the hot air collected up at the ceiling. Blowing heat to the floor level required expenditure of additional energy. The in-floor heating system maintains even heat from the floor to ceiling, with no waste. Precise temperature controls with integrated floor sensors deliver quick and constant heat recovery. The result is greater comfort for employees with reduced energy consumption.
---
Natural Lighting
Visitors immediately notice that the new manufacturing bays are surprisingly bright. See-through overhead doors with southern exposure let our work bays take full advantage of free, natural sunlight.
---
Controlled Electrical Lighting
Strategically placed light sensors adjust supplemental electrical lights as needed throughout the day. Low energy light fixtures become dimmer as the sun rises, then begin to brighten again later in the afternoon, so our work areas are evenly lit throughout the day.
---
Solar Heat
The south-facing transparent doors also assist the heating process by delivering free radiant heat to the building. On sunny winter days, natural heat from the sun can warm the shop to about 2° warmer than our thermostat setting, so no energy is needed for our in-floor heating system.
---
To assemble our extruded THINWALL™ panels, we developed our own automatic welding process. It deep welds the sides automatically, more accurately, with a more pleasing finish and 75% faster than any other available process.